Call Recording
Synchronized Playback
Play back any call recording right in the browser window using either an inline (basic) media player or as synchronized call recording playback.
Detect Silences Or Cross-Talk
The Synchronized Playback feature allows you to visually identify periods of silence or cross-talking. This could be a sign of a difficult conversation, the agent having trouble finding the right information, and more.
Save Time & Resources
Speed up calls up to twice the original speed or a level you are comfortable with to play back recorded calls. This will save you time which means you can either listen to more calls or dedicate resources to other jobs.
Identify Training Gaps
If you consistently see that certain agents have long pauses or talk over the customer, you can train them to find information faster, be more polite, react differently in a difficult situation, and more.
Inline Basic Media Player
Play back any call recording in your MiaRec Contact Center Intelligence Platform by selecting the call you wish to listen to and hitting the play button of the inline basic audio player displayed in the call detail tab.
If needed, you can also download the audio file as an mp3 file or click "More details" to switch the audio player to the advanced mode. You could also click "Open in new window" to launch the advanced player in a new browser window.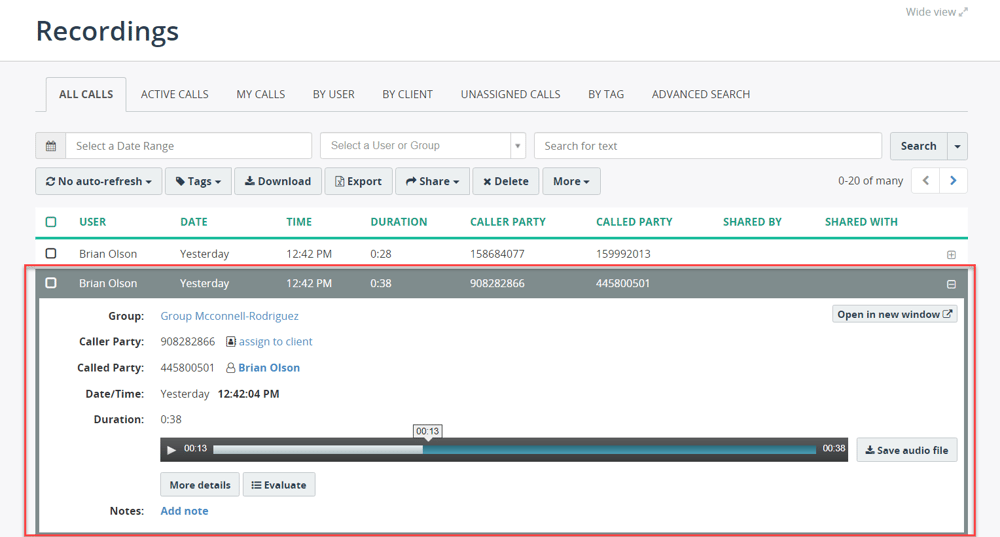 Synchronized Playback
The Synchronized Playback feature displays the audio as a graphic representation (in the waveform) of the sound in the recording. This enables you to easily detect the periods of silence and talk-over within the conversation as well as the volume of the conversation. As you progress through the call, the listened segment will change its color to teal.
In addition to the visual representation of the audio, Synchronized Playback also enables you to speed the call up to save time, e.g., 1.2x, 1.5x, 1.7x, and 2x. You can also save the audio file or switch back to the basic player.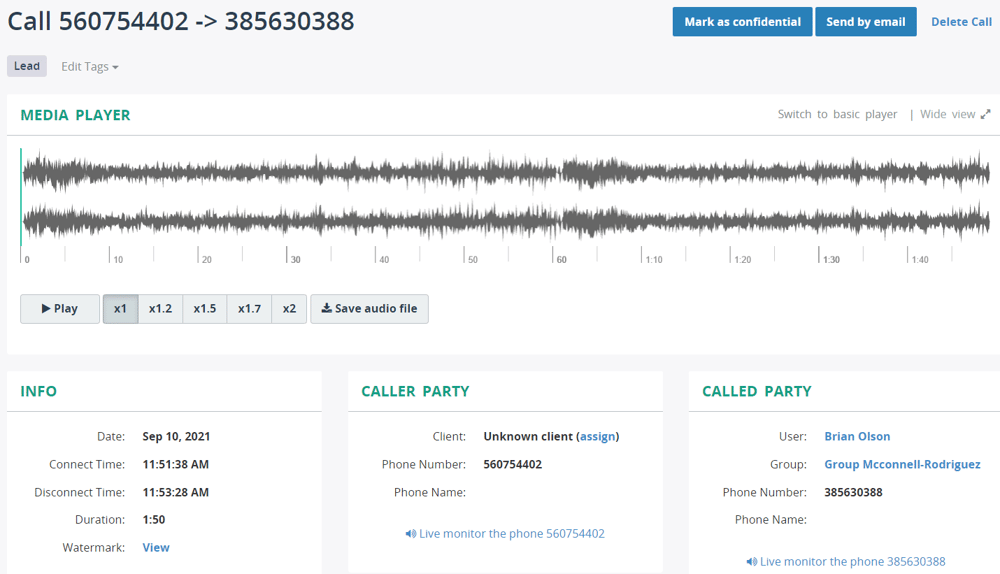 Experience MiaRec
See How Our Synchronized Playback Can Transform Your Organization