The Definitive Buyer's Guide To Conversational Analytics Platforms
Traditionally, contact centers played a supporting role in the form of customer support, service desks, or sales assistance. They were solely viewed as a cost center necessary to aid customer retention which, of course, is crucial to the success of a business.
However, over the past decade, efficient, growth-minded contact centers have become the unsung heroes of thriving businesses as they not only help to increase customer loyalty but also generate new sales. This trend was accelerated by COVID-19 and will continue post-pandemic as the vast majority of customers will retain behavioral patterns (e.g., ordering online) acquired during the pandemic.
Those formerly peripheral support roles have now moved to the center stage of customer experience. In fact, according to Gartner, 64% of customer service and support leaders say that growing the business is their most critical priority in 2022. This indicates a significant shift towards adding value and growing existing clients.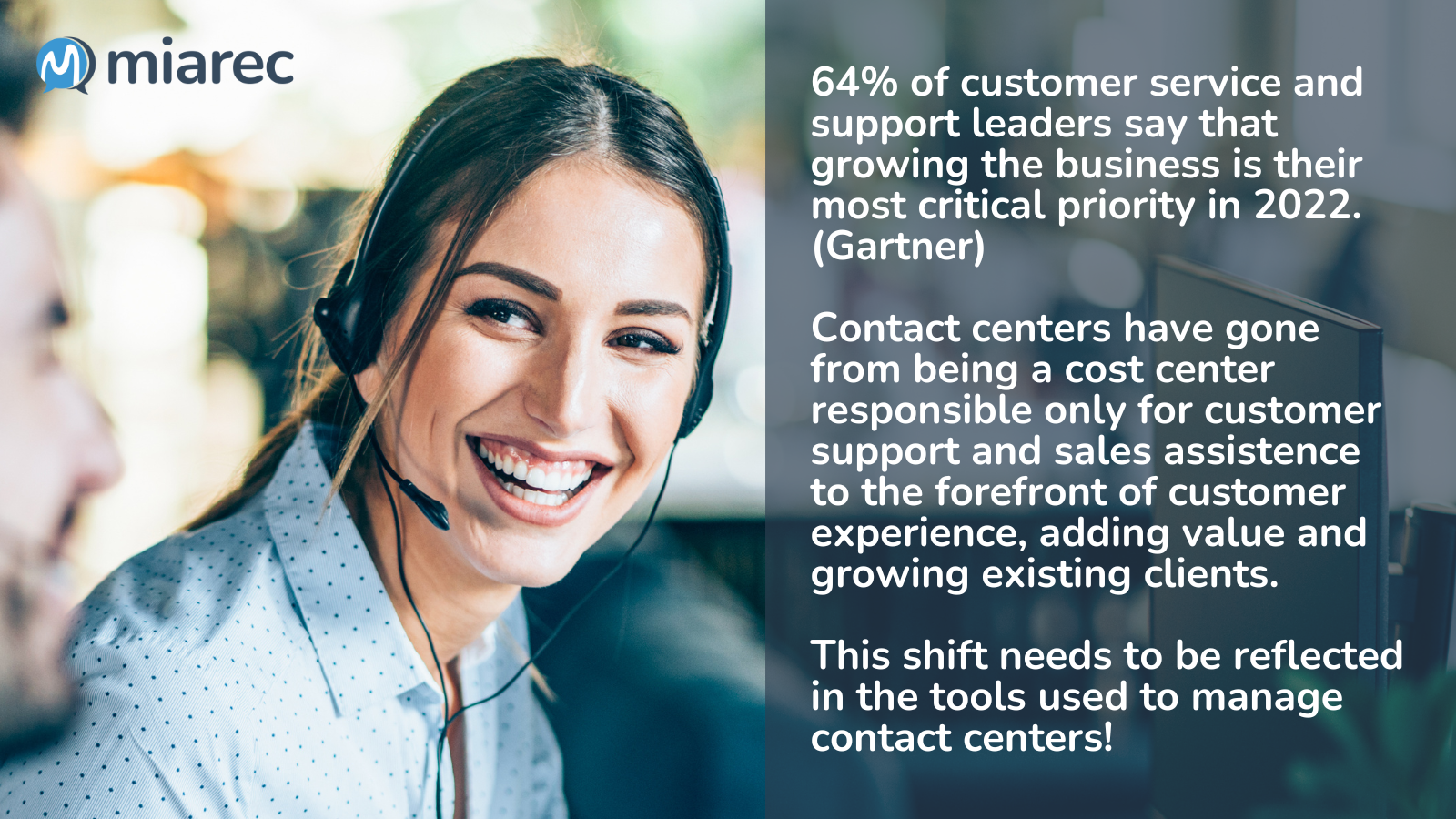 New Goals, New Purchase Criteria
Customers now expect outstanding service quality, highly personalized and relevant (targeted) experiences, and digitalization when interacting with contact centers. Today, there are four major goals organizations are looking to achieve by purchasing modern call recording, quality management, and voice analytics solutions:
The traditional, relatively simple call recording solutions are not cutting it anymore. Organizations have to adapt to the changing market requirements and business goals and define their purchase-decision-criteria checklist accordingly.
Consequently, a Conversational Analytics Platform must:
Be highly secure and compliant,
Integrate with existing infrastructure natively, require a low technology footprint, and be compatible with widely used

enterprise-ready communication solutions,

Drive maximum productivity and efficiency,
Be suitable for fully on-site, completely remote, or somewhere-in-the-middle/hybrid setup, and
Have sophisticated (AI-driven) Voice Analytics capabilities to finally extract insights from the massive amount of call recording data gathered.
But there are so many options out there. How do you decide which Conversational Analytics Platform is right for you?
Land & Expand: Invest In A Platform That Can Grow With Your Needs
We have found that organizations require different levels of capabilities depending on their growth stage, contact center maturity, and business goals. A small business taking orders over the phone might only require call recording, while a larger organization with the goal to significantly expand through Digital Transformation will require call recording and quality management, as well as voice analytics.
Below, we walk you through each level (subsequent levels build on previous ones). We will list the standard features you should check on your list before taking a deeper look at those features that are the cream of the crop.
Please Note: You can also download this Definitive Buyer's Guide as a printer-friendly eBook. Use the navigation on top to toggle between the chapters. The sidebar will provide you with additional resources related to each chapter.
Download The Offline Version
Too much to read now? Download the offline, printer-friendly version of this buyer's guide now and read it later.
Chapter II
The Basics: Modern Call Recording & Compliance
Call recording software has been around for decades and — at this point — is highly commoditized. It used to be very expensive and accessible only to those that could not afford to NOT record their calls. Today, almost every organization uses call recording in some form or another. There are many vendors to choose from that are essentially offering the same basic features.
Standard Call Recording Features (Checklist)
Most call recording solutions offer the same standard call recording features (just be sure to double-check that these features are included):
Flexible Recording Options
You can choose to record 100% of your calls or selectively record based on rules, e.g., record only incoming calls.
Flexible Recording Options
Diarized Call Recording
Both sides of the conversation are recorded separately to allow you to identify who said what.
Diarized Call Recording
Industry Standard Compliance
Maximum built-in compliance features streamline your adherence to industry or government regulations, e.g., GDPR, MiFID II, Dodd-Frank, and HIPAA.
Industry Standard Compliance
Synchronized Playback
You can see the overlaid audio tracks of both caller and agent to identify pauses or periods of cross-/overtalking.
Synchronized Playback
On-Demand Recording
Record any conversation from the start, even those already in progress. This feature is especially helpful if you are manually redacting payment card numbers for PCI DSS compliance (see below) and the agent forgets to resume call recording after pausing it.
On-Demand Recording
Role-Based Web Access
All reputable call recording solutions offer role-based web access by providing a number of pre-set roles. The differences will become apparent when you see how granular you can be in defining your own access roles to meet your unique needs.
Role-Based Web Access
Manual Call Tags/Notes
Another common feature is the ability to manually create tags or notes and associate them with call recordings to make them more searchable. This is a manual process that is suitable for teams with small call volumes. As your organization (and call volume) grows, automatic categorization (see below) will be needed.
Manual Call Tags/Notes
Easy Reporting
Every call recording solution will give you some form of reporting. However, there are huge differences in the usability of the reporting. Be sure to check if you can generate statistics for specific calls, days, groups, users, teams, and more. Also, can you export the data easily into Excel or share PDF reports within your organization?
Easy Reporting
Real-time Dashboarding
Dashboarding is another standard feature, although the quality of dashboards varies. Look for a solution that offers real-time, at-a-glance insights into your contact center performance, i.e., calls-per-day, call duration, and the number of active/recorded calls.
Real-time Dashboarding
Coordinating Products
Additional Resources
The Deciding Factors For Choosing The Right Modern Call Recording & Compliance Solution
After you have checked off the standard must-have features, there are four key differentiators you should look out for.
1. Ease Of Use
You might say this one is obvious, and we think it should be standard, but we are always astounded by the feedback we receive from new customers on how much easier and more intuitive our platform is. So, ask for a trial and try out your processes. How easy is it to create and customize a user role outside of the existing ones? How easy is it to generate and share reports across your organization? How difficult is it to identify training gaps, automate a recording announcement, or find, retrieve, and open an encrypted file? Ask your users what features they wish were easier to use and try them out on the platform you are evaluating.
2. Recording Consent (Crucial If You Are On A Cisco Platform)
Informing your callers that "this call is being recorded for quality assurance and training purposes" is not only good business practice (Who likes to be recorded without knowing about it?) but is also required by law in many places, e.g., California. Many organizations rely on their agent to make the announcement before starting the conversation. However, this results in non-compliance if an agent is negligent, forgets, and so on.
This is especially important for outbound calls, as the IVRs utilized by contact centers cover the inbound calls recording consent. However, for outbound calls, most systems don't have a recording consent announcement (i.e. Cisco), so to be compliant, you will need an add-on as part of your call recording solution that automatically inserts the recording announcement before the conversation starts. Also, ensure that the recording announcement is included in the recorded audio file in case of later audits.
3. (Automatic) PCI DSS Redaction
Almost any business takes some sensitive customer data from number strings over the phone. While PCI DSS primarily focuses on payment card numbers, the compliance standard can protect all types of sensitive number strings, such as social security or tax ID numbers, account numbers, or other private customer data.
Modern call recording solutions can help you recognize number strings and redact them from call recording audio files, speech-to-text transcripts, and screen recordings. Check if any vendor you have shortlisted is supporting:
Manual PCI DSS compliance support (i.e., by being able to stop and resume the call to take down credit card details),
Automatic Artificial Intelligence-driven redaction to recognize and redact sensitive number strings automatically and reliably,
Or anything in between, such as lookback technology, which provides the ability to automatically record in-progress calls from the start for those utilizing on-demand recording and manual PCI compliance.
If you can automate the process, you don't have to worry about negligence, so highly sophisticated OCI tooling is preferable.
To learn more about PCI DSS compliance, check out our articles on the latest PCI DSS 4.0 standard, why most organizations get it wrong (only about one out of three businesses was 100% PCI DSS compliant in 2019), and how to ensure PCI DSS compliance with remote teams.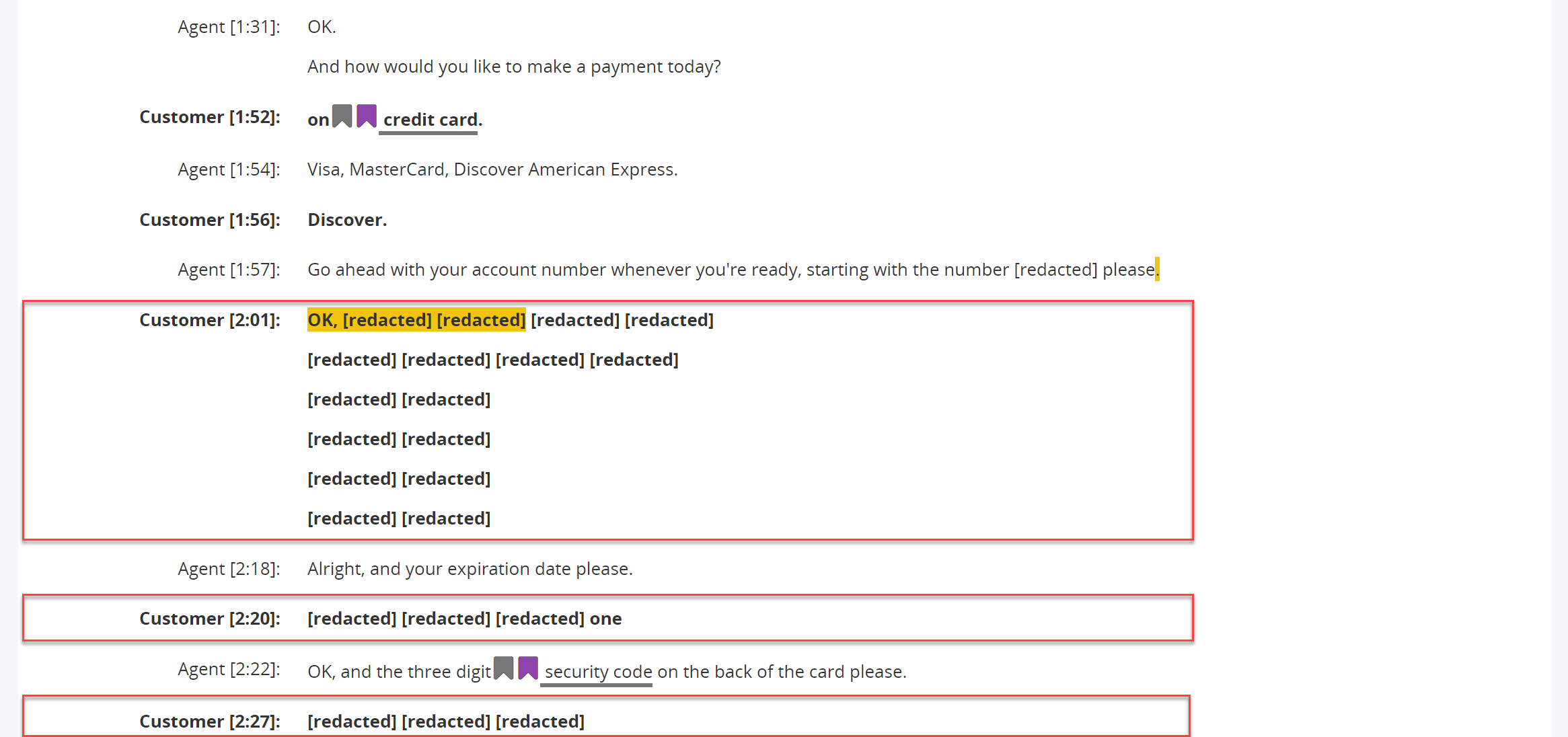 4. Configurable Retention & Storage Policy
Depending on the industry you operate in and the business function (i.e., finance, legal, helpdesk, etc.) you are recording calls for, you might be subject to very different data retention and storage regulations.
On the one hand, you must safely and securely store call recordings for the minimum amount of time prescribed by the compliance laws you are working under; on the other hand, you will want to destroy the data as soon as you are allowed to minimize associated storage cost and exposure risk.
Your call recording solution, therefore, needs to accommodate and support highly configurable data retention and storage policies according to your needs, e.g., delete data after 30 days, 90 days, one year, or five years. It also needs to be configurable by the department, as financial information, for example, has to be stored longer than support tickets. You should be able to "set it & forget it."
5.
Watermarking & Full Audit Logs
Finally, look for a solution that will automatically watermark all of the generated call recording files. Surprisingly, this crucial feature is not supported by a lot of vendors although it is essential for ensuring compliance as it guarantees the files are tamper-proof and can be used as evidence in any legal proceedings. In addition, your solution must provide full audit logs that include accessing/listening to a recording, admin activities, and more.
"Highly impressed by MiaRec's expertise in very quickly installing their solution and beginning to record calls immediately. The process was very painless relative to a project of this scale. MiaRec has a highly intuitive interface that enabled us to expand the group of associates who can listen to recorded calls.

New users were provided access and were off and running without any need for further training. As the only source containing all our customer calls, we have been able to use MiaRec to very quickly find and listen to any calls that require review."
Jim L.
Director of Contact Centers - Large US Retailer
Chapter III
Intermediary: Quality Management
Once you have 25 or more contact center agents, it is advisable to invest in a contact center quality management solution, especially if your agents are working remotely or you are managing hybrid teams.
These solutions should natively integrate with your call recording solution (think about it as switching on additional features in a SaaS product) and include live monitoring, agent evaluation, and screen capturing capabilities as well as quality management-focused reporting.
Standard Quality Management Features (Checklist)
As with call recording, there are a few standard features you should check off your list:
Live Monitoring
One of the easiest ways to ensure service/call quality is to simply sit in on a call with your agent. However, nowadays, this happens silently in the background without distracting the customer or agent. As a supervisor, you can simply click a button to join an ongoing call or choose continuous monitoring to monitor consecutive calls of one agent. As you listen in, you can evaluate the agent's performance and/or tag the call for follow-up.
Live Monitoring
Manual Agent Evaluation
Contact center supervisors spend a large portion of their day (re-)listening to call recordings or ongoing calls with the goal of evaluating their agent's performance. This enables you to identify training gaps, measure training and process improvement efficiencies, and much more. Look out for tooling that allows you to create standardized evaluation questionnaires with custom/weighted scoring that are embedded in the call screen so the process is as efficient as possible. Finally, this should add up to a single agent performance score that you track over time.
Manual Agent Evaluation
Agent Screen Recording/Capturing
One aspect of strong quality management is the ability to capture an agent's screen during call recording to identify training gaps, better understand customer behaviors, and ensure agent compliance. This is a pretty standard feature. However, look for solutions that allow you to record multiple screens in parallel with high-quality video (see below).
Agent Screen Recording/Capturing
Quality Management Reporting
Last but not least, you will need reporting. After all, you cannot manage what you cannot measure! It is advisable to have a list of KPIs ready and check how easy it is to report on those. Then check if you can drill down into specific call, day, group, user, and agent performance KPI stats even further. Can you share evaluation results with your team, trigger weekly email updates, or automatically receive notifications and alerts if predefined thresholds have been reached?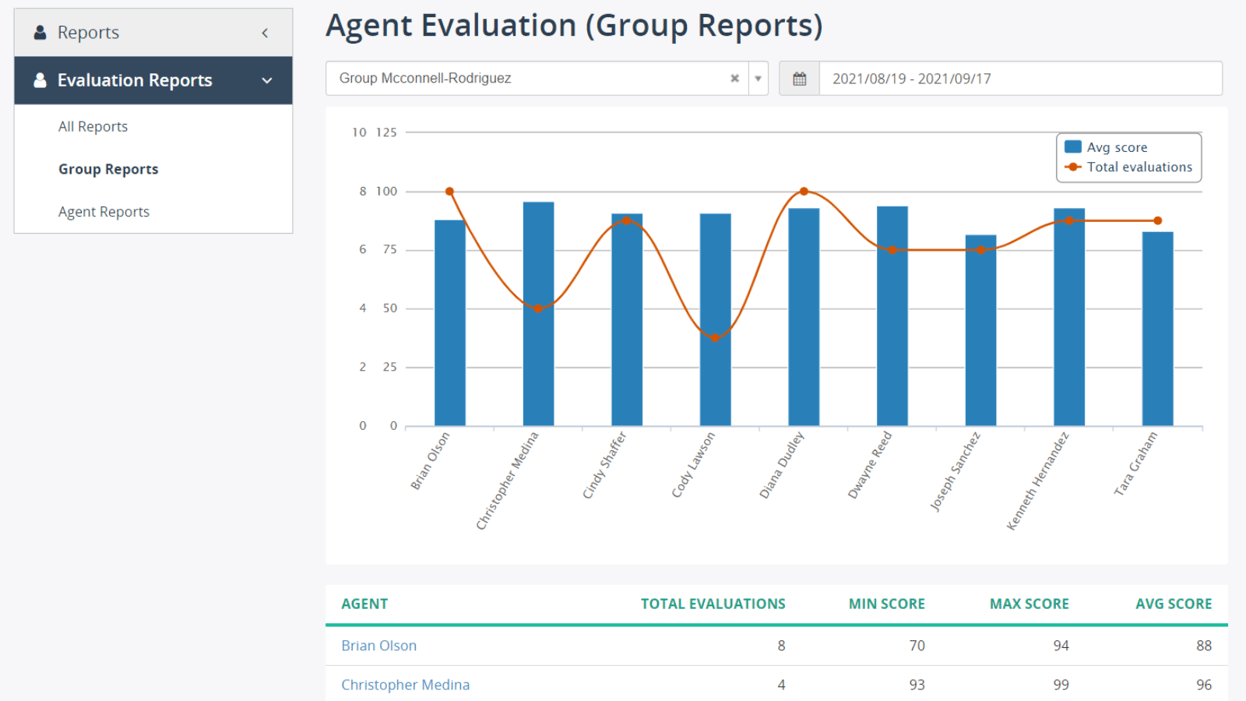 Quality Management Reporting
Coordinating Products
Additional Resources
The Deciding Factors For Choosing The Right Quality Management Solution
With quality management, we recommend you look out for two key differentiators:
1. Remote/Hybrid Team Support
One of the key changes fueled by the pandemic is the distribution of teams due to the ability to work from home. Traditionally, contact centers were often located in one or a few central locations. During the pandemic, the vast majority of non-essential workers had to switch to remote work and many haven't returned. Because many inhibiting obstacles (equipment, bandwidth, etc.) and fears (Will the performance plummet? How do I supervise remote employees?) have been dealt with, a lot of contact centers are now re-investing the money saved on office rental into tooling that better enables remote and hybrid team support.
Look for quality management solutions that allow supervisors to follow exactly the same quality assurance process regardless of where the agent is located. For example, the ability to record multiple monitors at once (not just the primary, as many tools offer) and to zoom in or out of the captured screen by clicking on the selected picture ensures that you are getting a full picture of the agent's activity. Since you might need to capture a lot of video (careful: storage), you will want to have a tool that allows you to capture the screens at a variable bit rate to minimize the data volume that needs to be stored while also delivering full-motion, high-quality video recording when needed.
2. Automatic/AI Call Scoring
Technically, you will need Voice Analytics to be able to take advantage of automatic agent scoring capability (as you need speech-to-text transcription and AI to score the outcome) but we mention it under quality management as it belongs here from a feature point of view.
Due to time restrictions, supervisors can evaluate only a tiny fraction (about 2-3%) of the call recordings. The chances of getting a complete picture of what is going on in your call center are near zero. But by using Artificial Intelligence (AI) and speech-to-text transcriptions, you can create a set of predefined rules (e.g., Has the agent used the proper greeting?) that the algorithm should use to auto-score 100% of your calls.
This drastically speeds up the training process for new hires, allows you to measure training outcomes (e.g., Are agents now using certain phrases taught in training?), increases customer satisfaction by improving service quality over time, and much more.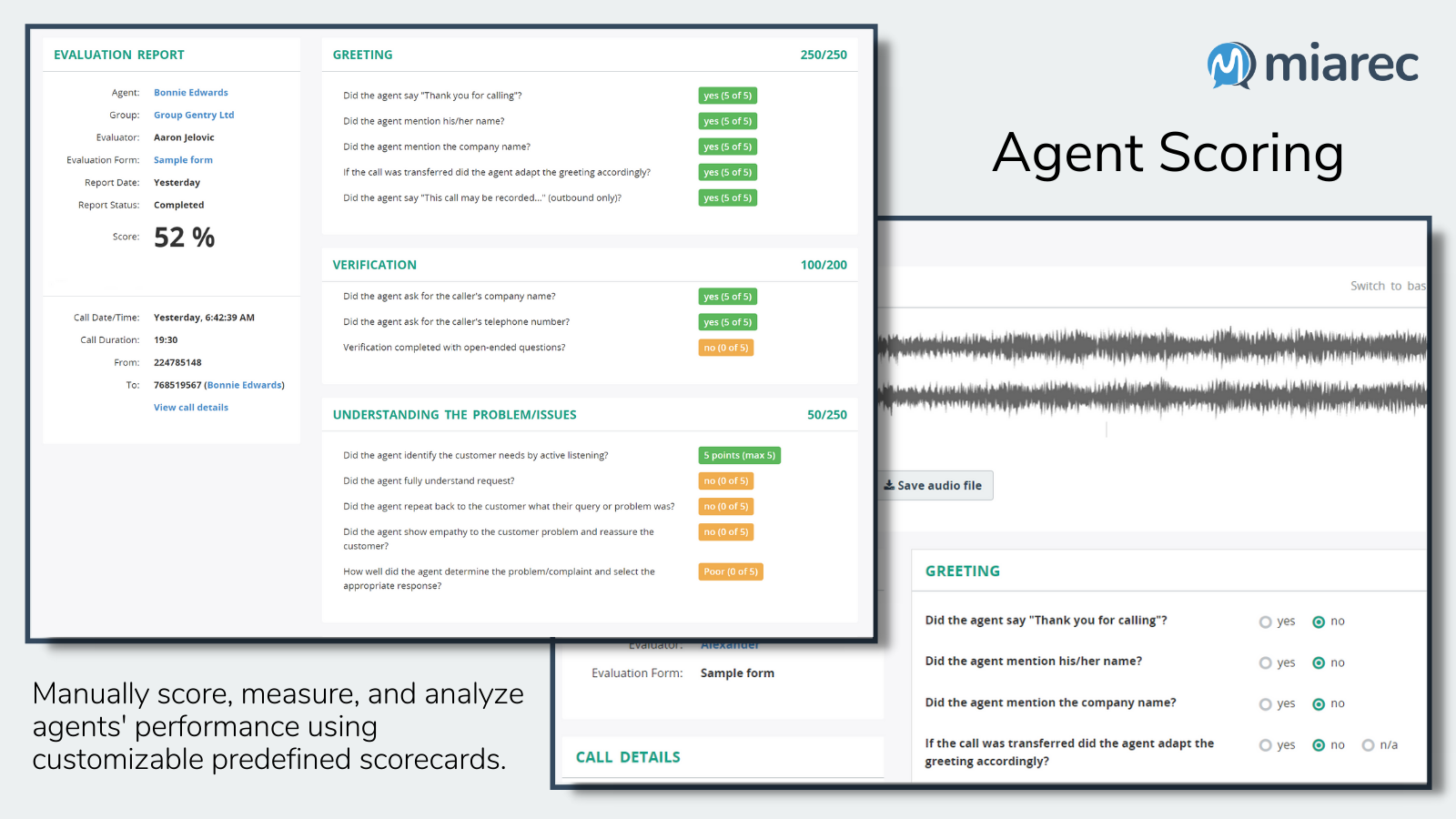 "MiaRec allows us to simply and quickly record our agents, listen in real-time to live calls, and lightly integrate targeted search for call recordings from our CRM. We've been using it for years, and it has improved and grown over time to become a workhorse in our QA and compliance flows."

Paul McGurn
Telecommunications Architect - LogMeIn
Chapter IV
Advanced: AI-Driven Voice/Speech Analytics
Voice Analytics solves a huge dilemma that call centers have been struggling with since inception: the generation of so much data without the ability to access it in a sensible manner. Since the call recording files are audio, they would have to be transcribed — a process that is too labor-intensive if done by a person. However, now that huge improvements have been made in speech recognition and Natural Language Processing (NLP) thanks to machine learning and Artificial Intelligence (AI), transcribing large volumes of audio files accurately is not a problem anymore. This makes call recording data accessible, categorizable, and analyzable. We call this "humanizing the call data."
Voice Analytics is a relatively new market and only some of the contact center solutions on the market include a form of Speech or Voice Analytics. There is a wide range of features and capabilities that aren't standardized and definitely are not as commoditized as call recording and compliance solutions or even quality management. Therefore, we will go through each of the key components below and describe what to look out for.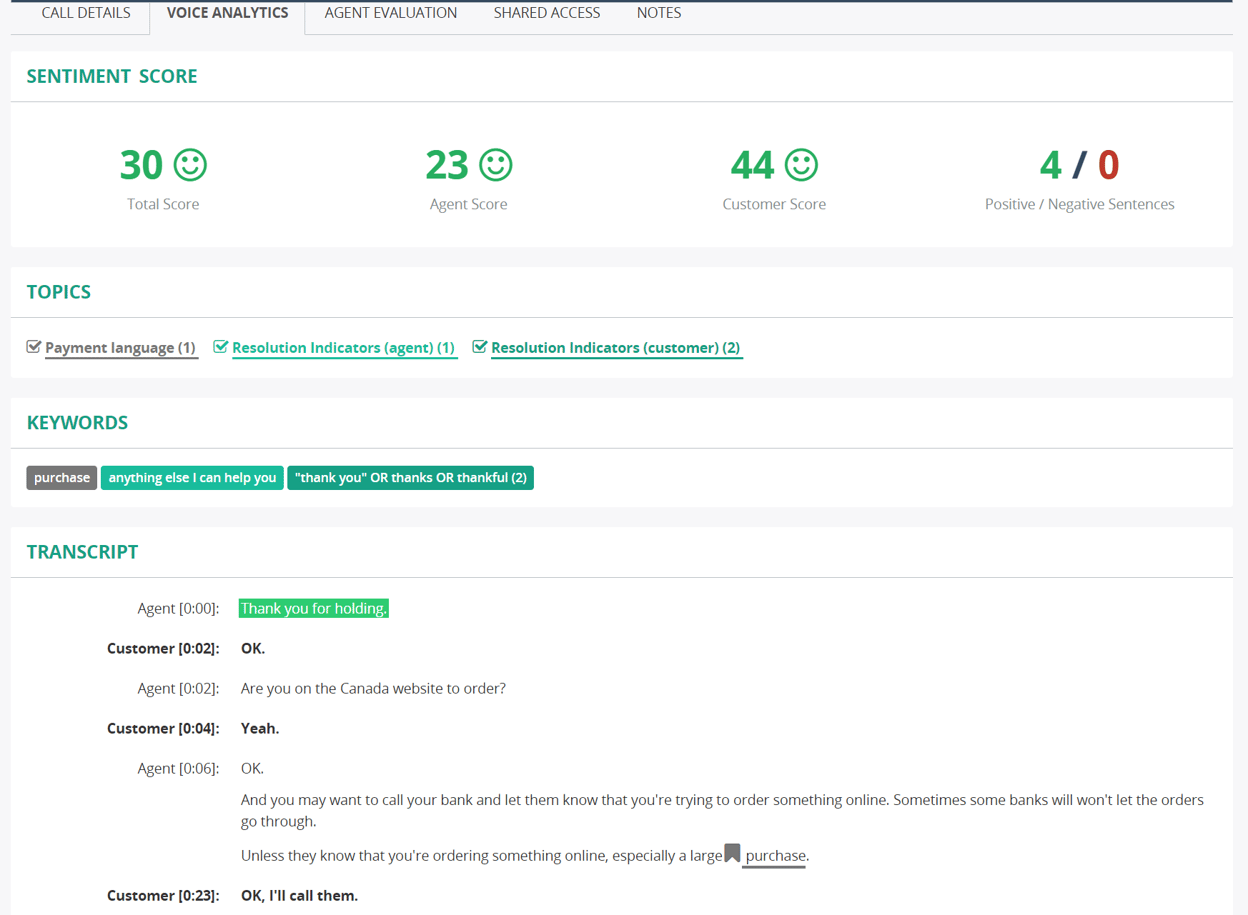 1. Speech-to-Text Transcription
As described below, speech-to-text transcription is the foundation on which Voice Analytics stands. Therefore, the first quality marker — one of the most important — is how good the speech recognition and Natural Language Processing (NLP) engine is. While there are amazing NLP engines available on the market, their high cost is a prohibitive factor for many organizations. Therefore, most vendors have opted to create their own.
Ask questions that allow you to gauge the quality of the transcription. For example, inquire about the current accuracy rate and how well it handles accents. Ask if there are any limitations you should know about, e.g., of minutes transcribed per month. Is there a product roadmap that maps out planned improvements over the next 12-24 months? Keep in mind, however, that there will be a point where the quality of the NLP is good enough for what you need, so don't get too carried away. Otherwise, you will have to make a trade-off between accuracy and affordability.
2. Automatic Keyword Extraction
While having transcripts is fantastic (reading transcripts can be done twice as fast as listing to audio), being able to automatically extract keywords from those transcripts is where it becomes interesting for contact centers due to the large number of calls they deal with every day. Look for a solution that allows you to easily create and enhance your own list of keywords and key phrases.
For example, keywords and phrases like "Ahem", "Let me check", "I have to look", "Let me ask my colleague", and others show agent insecurity. You can add competitor names (and their product names), your product and campaign names (to measure the effectiveness of a new product launch or marketing campaign), and so much more. The sky is the limit here, so easy administration is key!
Another nice feature is the ability to color code keywords. For example, anything related to shipping problems could be marked orange, refund/product returns/replacement requests could be marked red, while positive feedback and referrals could be marked in green. Color coding allows you to easily spot how a call progressed (bad to good, good to bad) as you look at the highlighted keywords in the transcript.
3. Ability To Categorize Calls By Topics
Now that the keywords are automatically extracted, it is time to aggregate them into groups and categorize calls by topics which could be anything from a reason for the call (e.g., refund request) to the next steps (e.g., flagged for follow-up). By doing this, you can analyze call volume and topic trends over time e.g., you are getting twice as many calls about shipping issues this week, but why? You can also search for all calls related to a certain topic.
Choose a solution that allows you to set up and manage topics in an easy, yet controlled fashion. Topics should be seen as living, breathing things that should be constantly improved upon and fine-tuned. Explore how topics are used in a reporting context. Can you visually see a trend over time? Within the context of a single call, can you drill down — even to a granular level — to obtain further details? Are the topics highlighted and do they show the associated keywords in the transcript? Are they color-coded so it is easy to visually detect which segment of the call they correlate with?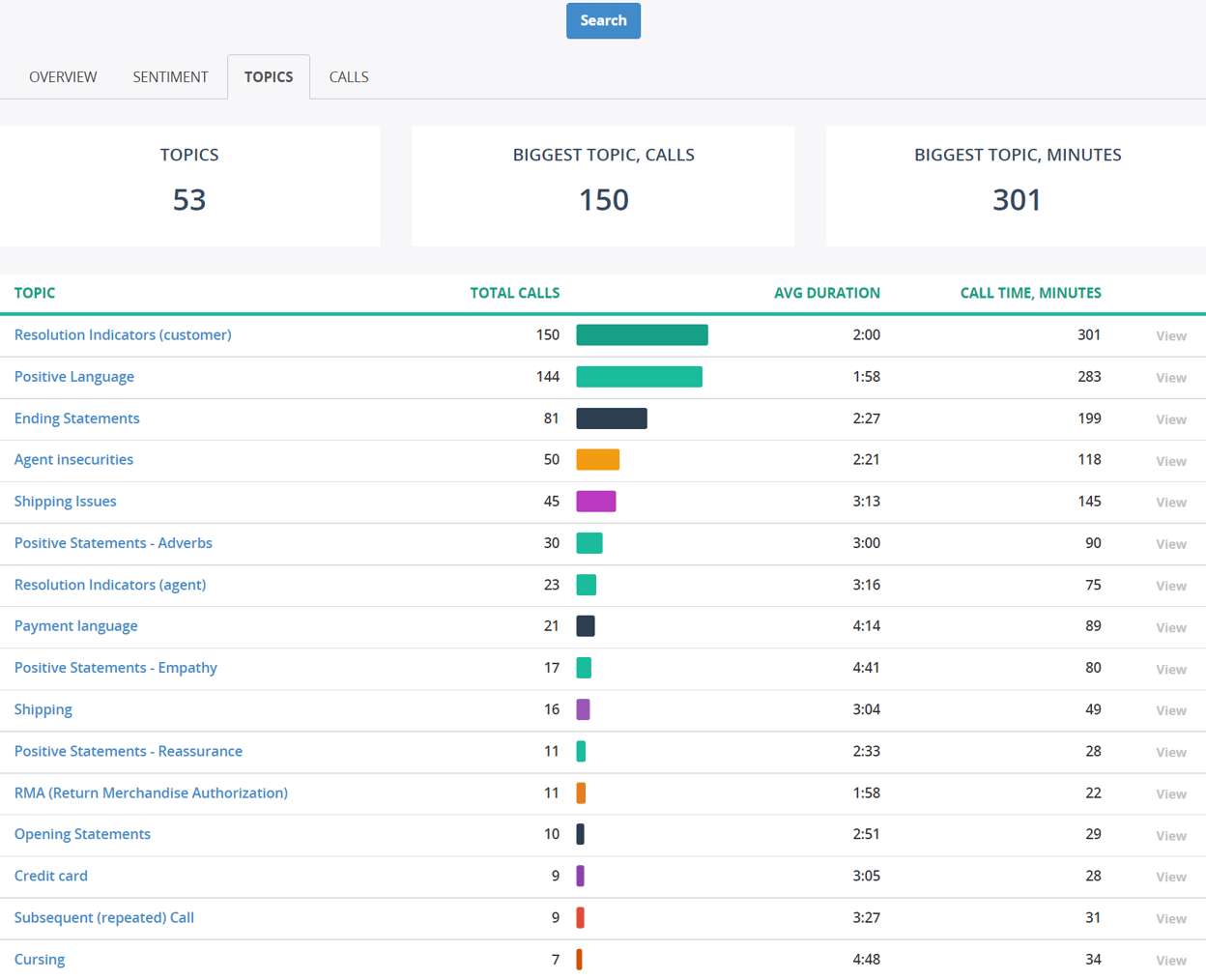 4. Sentiment Analysis
Customer and agent sentiment (positive, negative, or neutral) analysis is extremely useful in evaluating the performance of a single agent, an entire team, or your overall call center. Many vendors use simple indicators like voice pitch and volume to determine sentiment. But this can often lead to inaccurate results because people can be just as excited (and loud) about something positive as they can be about something negative.
Automatically calculated sentiment scores based on the extracted keywords are more accurate. For example, words like "nightmare", "stupid", and "frustrated" are great examples of keywords used to express a negative sentiment. By assigning separate scores to the customer and agent sentiment, you can better assess where the problem is and how to fix it. Just as with the topics above, keywords used to identify sentiment can be color-coded which allows you to determine how the call progressed or where it went awry without having to read the transcript.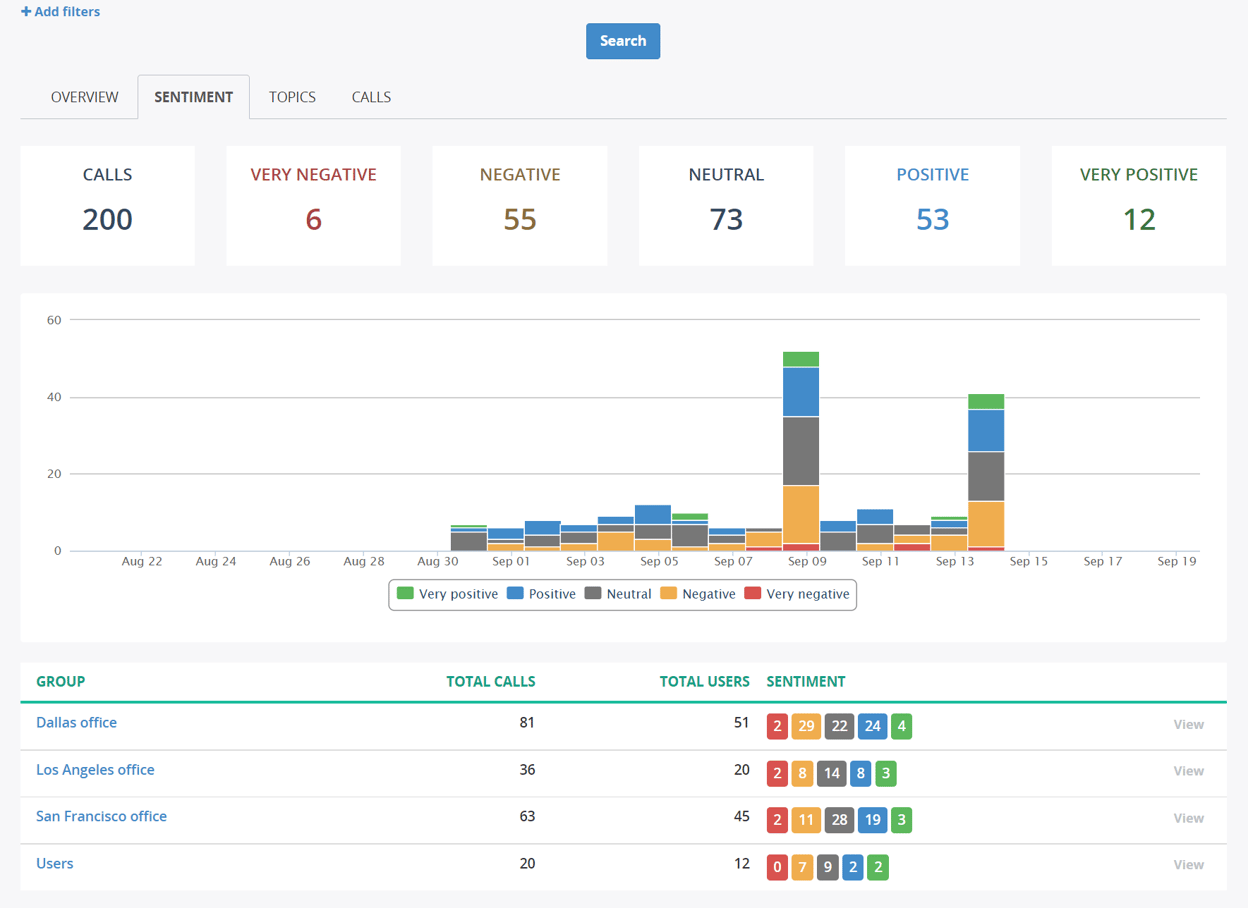 5. Reporting
Reporting capabilities are essential for Voice Analytics. Supervisors should be able to easily and quickly analyze call volume trends per topic over time, e.g., changes in the number of calls related to product returns, shipping problems, and upgrade opportunities from last month to this month. This includes the total number of calls and a trend diagram for each topic for the selected period (days, weeks, months, quarters, or years). It is a good idea to play around with the reporting and dashboarding to see what you can report on. Can you report on the number of calls containing competitor names or how many times certain key phrases were used? Can you create automatic alerts and notifications should a certain threshold be exceeded? Can you set up reoccurring reports to be sent out automatically on a particular weekday?
6. Ease Of Setup
Last but not least, it is very important to understand how easy it is to set up and manage the Voice Analysis capabilities. Voice Analytics opens up an enormous potential for contact center service quality and efficiency improvements. The sky is the limit, but because things can get a little complicated, it does need careful configuration and training to do it right. Look for a vendor who has an easy-to-reference track record of not only being fast at implementation but also willing to hold your hand through the process until you are comfortable running by yourself.
We have often heard from frustrated enterprises where it took months for another solution to be implemented, and they had to pay significant amounts for Professional Services when they didn't receive what was expected in a reasonable time. By the way, MiaRec can be up and running in one to two days and our customers love our professional services team who is always here to help you every step of the way.
Coordinating Products
Capabilities & Features
Supporting Resources
We needed a platform that went beyond basic interaction recording. We wanted a single solution that would provide usable customer service insight. We needed analytics tools to measure performance and customer sentiment. Most of all, the data had to be organized, easily accessed, and easy to understand without having to become experts in analytics."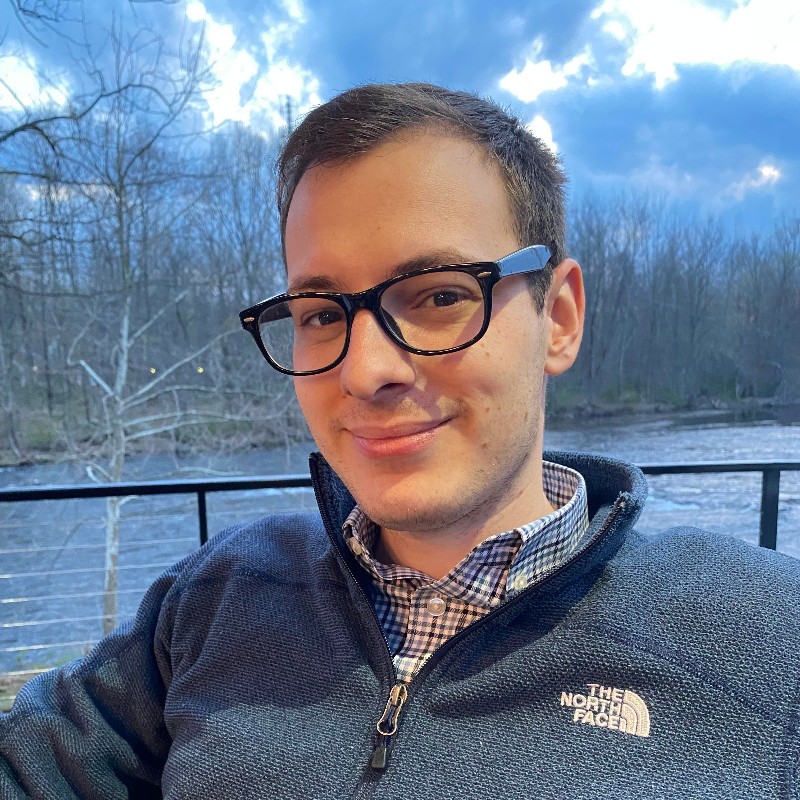 Jared Jenevein
IT Analyst - Companions & Homemakers
Conclusion
Contact centers have come a long way in recent years. No longer are they simply cost centers that play a supportive role; today, they are at the very heart of customer experience and have a huge impact on customer retention and new revenue generation.
In this Definitive Buyer's Guide to Conversational Analytics Platforms, we looked at the must-have features of call recording and compliance, quality management, and voice analytics solutions and showed you what to look for when making your decision about which solution is right for your business.
If you want to experience the power of MiaRec's Conversational Analytics Tools and Platform for yourself, please sign up for a trial or book your personalized demo today. Our team will be happy to show you how our solution can help improve your contact center operations and provide real value to your customers.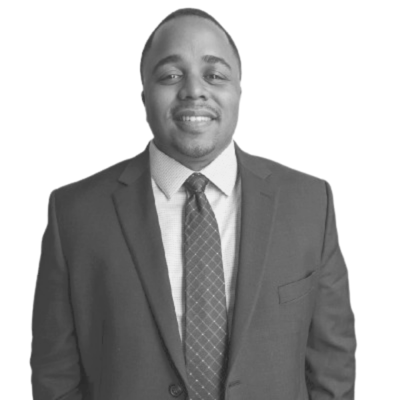 Anthony Perez
Marketing & Business Development Manager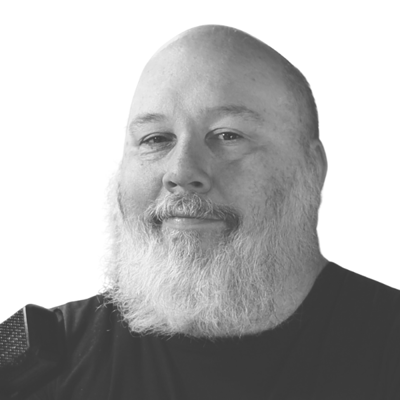 Brian Gocher
MiaRec Product Evangelist
Get A Custom Quote Today.
While our cloud and on-demand pricing is very straightforward, we customize it depending on your business needs, the number of seats required, the add-ons chosen, and other criteria.
Experience MiaRec
Get Your 1:1 Product Demo
Experience the power of MiaRec's Conversational Analytics Platform.