Voice Analytics
AI-Based (NER and ML) Auto Data Redaction
Automatically remove sensitive data such as Personal Identifiable Information (PII) and payment card numbers from your transcripts and audio recordings.
Protect Sensitive Customer Data
Remove all Personal Identifiable Information (PII) such as account numbers, social security numbers, dates of birth, and PCI data including payment card numbers and more from your audio files and transcripts.
Improve Productivity & Scale Compliance Workflows
Save your staff valuable time by removing the manual and tedious nature of traditional compliance workflows. Effortlessly censor vulnerable customer data on every instance of PCI and PII discussed between your agents and customers.
Improve Accuracy
Increase accuracy by eliminating the human error and bias associated with manual redaction processes. AI-powered audio redaction services detect context within conversations to ensure various inaccuracies from both human error and transcription can be detected and censored.
Protect your customers, your business, your brand
Automatically redact customer information from both your call recording files as well as call transcripts.
What type of information can be redacted?
Payment Card Numbers
Social Security Numbers
Date of Birth
Account Numbers
And More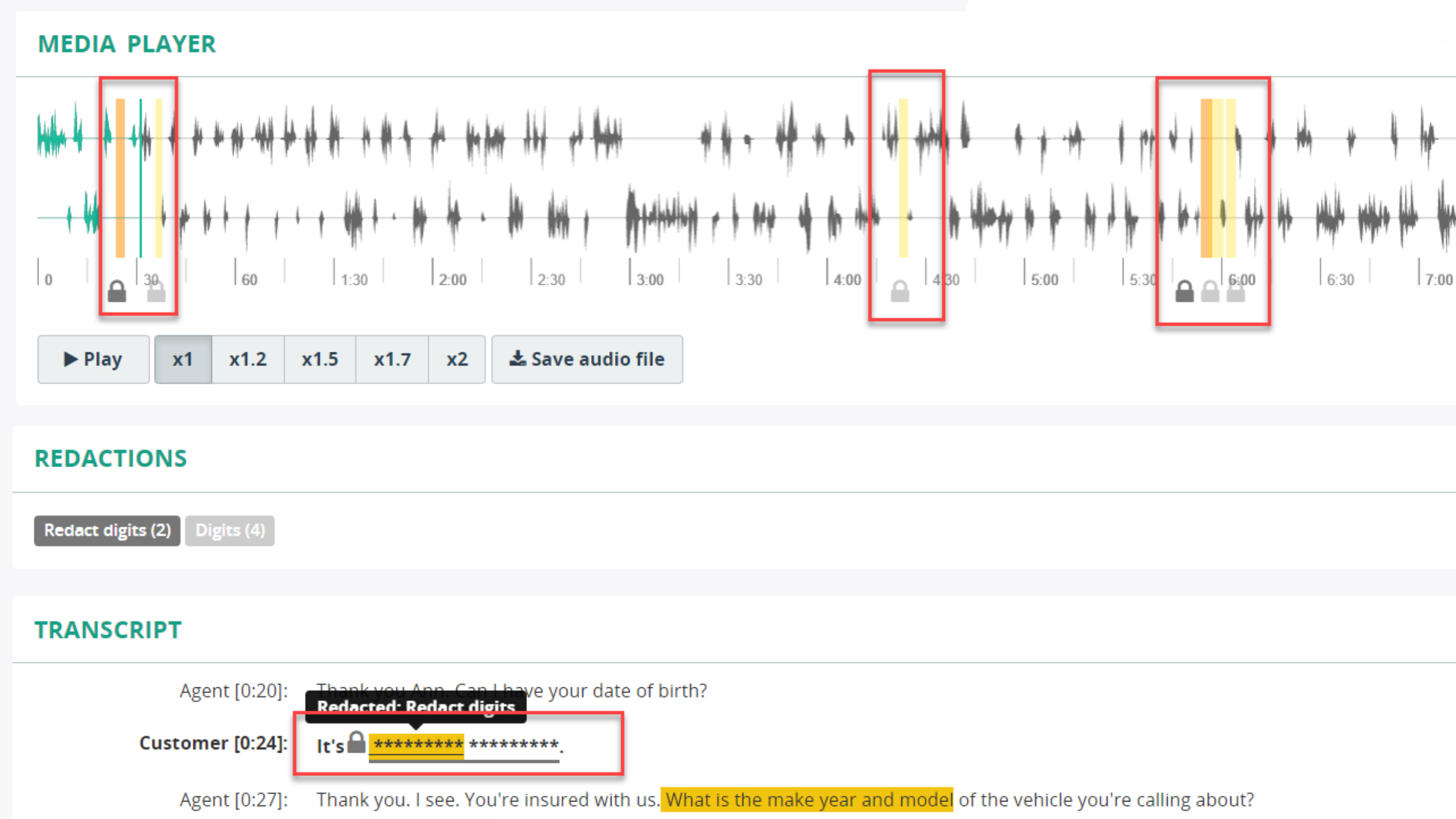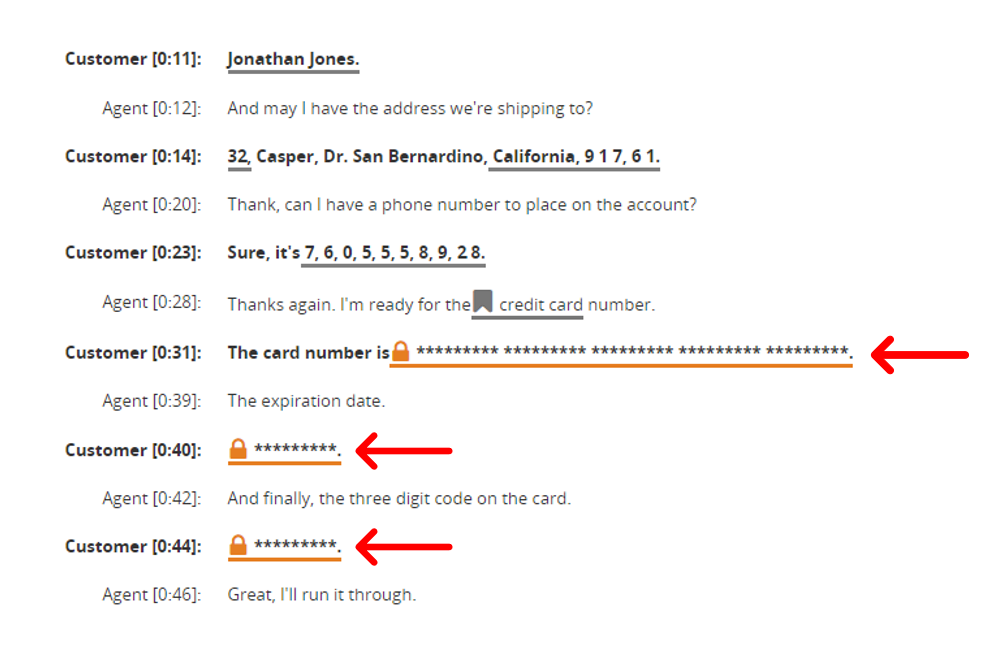 How It Works
MiaRec's data redaction is based on cutting-edge Named Entity Recognition (NER) and Machine Learning (ML) technology. Data is redacted from both transcripts and the associated audio files. Each redaction type is clearly labeled in the transcripts for full visibility into what data was redacted.
High Accuracy: Automatically identify and categorize sensitive data elements, including personal identifiable information (PII), such as names, social security numbers, credit card details, addresses, and more. Using Named Entity Recognition (NER) and Machine Learning (ML) trained on thousands of conversations, MiaRec' AI-based redaction is more accurate than traditional pattern-matching.
No Over-Redaction: The models understand the context of the conversation, so it can predict with high accuracy if these digits belong to a credit card number and must be redacted, or if these digits are customer account numbers, and they are needed to be kept in the recordings. This results in avoiding significantly mis-redaction and over-redaction.
Out-of-the-Box Configuration: The solution requires zero configuration, eliminating the need to set complex rules and spend time on extensive configuration, compared to pattern-matching auto data redaction solution.

MiaRec makes compliance easy with Data Redaction
MiaRec's newly enhanced ML-Based Auto Redaction sets the gold standard for accuracy in the current market landscape. By harnessing the forefront of AI technology, including Named Entity Recognition and Machine Learning, we have achieved an exceptional 99.9 percent accuracy in identifying and eliminating sensitive information from transcripts and call recordings.
Scale and automate your compliance processes with MiaRec Auto Data Redaction capabilities.
Learn More About Data Redaction & PCI Compliance
Our Modern Contact Center Blog provides practical tips, tricks, and strategic expert advice on how to keep your contact center compliant, secure, reliable, and efficient while providing the best customer experience possible!
Experience MiaRec
See How Automatic Data Redaction Can Transform Your Organization